Hey
agent

— ready for the

only tool

you'll ever need?

We'll help you managing your artists' bookings so you can focus on the important stuff. Stagent is packed with time-saving features.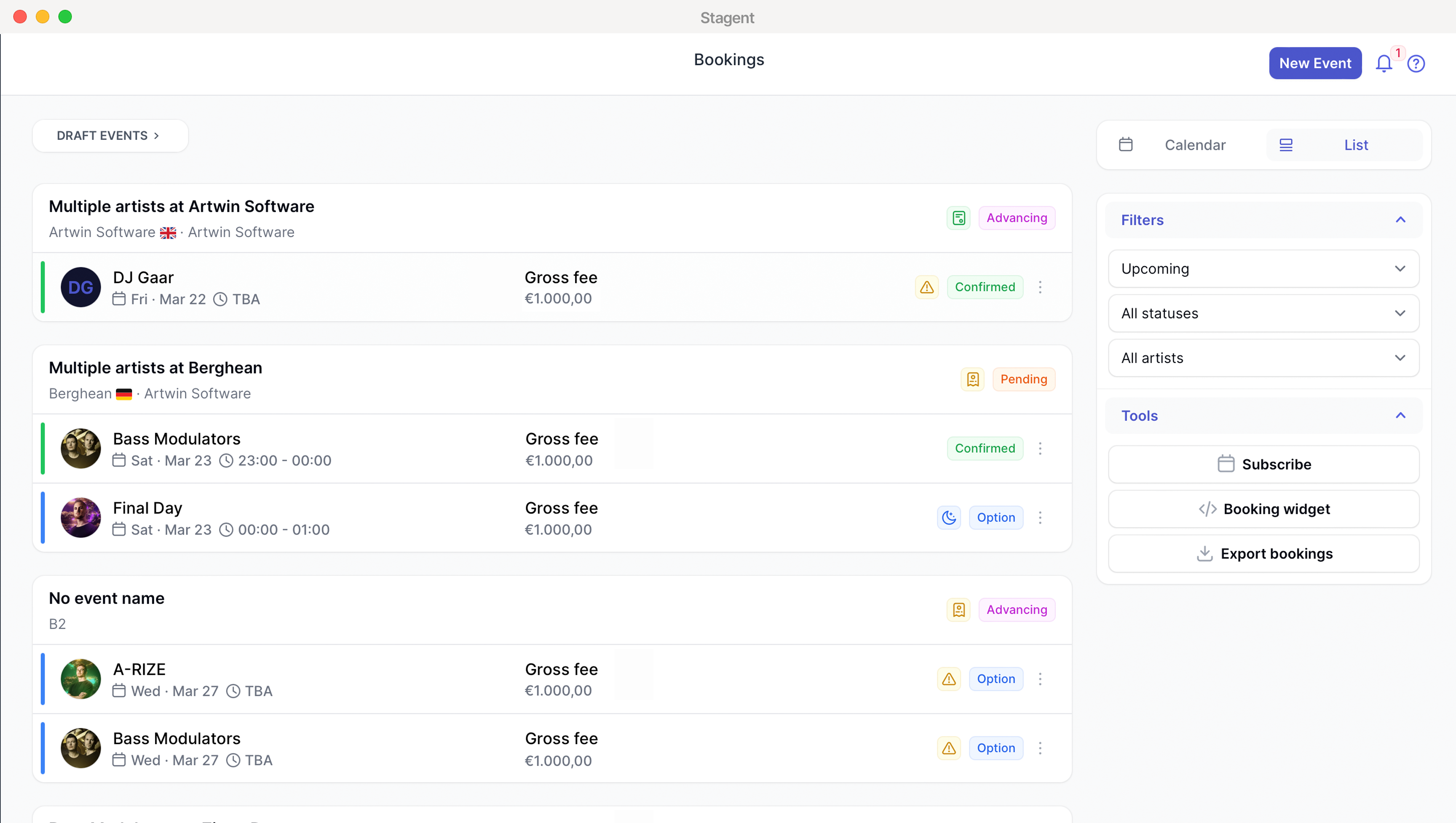 Your agency's dashboard
To be the best agent you can be, you need to get organized. Let's get started.
Stagent is designed with booking agencies' needs directly in mind. Formed by a team of seasoned music industry professionals, Stagent addresses the pain points that have plagued most booking software over the years. Our platform is a 21st-century solution to booking artists - it's simple, easy to use, and designed to give you the information you need at the press of a fingertip.
Streamlined bookings

Keep all your artists' bookings well organized and up-to-date, generate contracts and invoices for your clients, and keep your team in the loop with automated task lists.

Automated itineraries

Flights change. So do itineraries. We keep track of all of your artists' flights related to your booking. We update the data and notify you and your team if they change.

Paperless workflows

Forget printing and scanning. Get your contracts and documents signed without a single print or scan operation, and save time in an eco-friendly way.
Track your finances

Accept payments from promoters directly, see how much each artist earns from each show, and how you're doing financially.

Work with your team

Stagent helps your agency function as one unit by increasing the speed and quality of your communication when it comes to flight itineraries, riders, and other documents.

Take over control

Handle all your bookings with ease. From contracts to payment and beyond, Stagent handles every essential aspect of all your bookings along the way.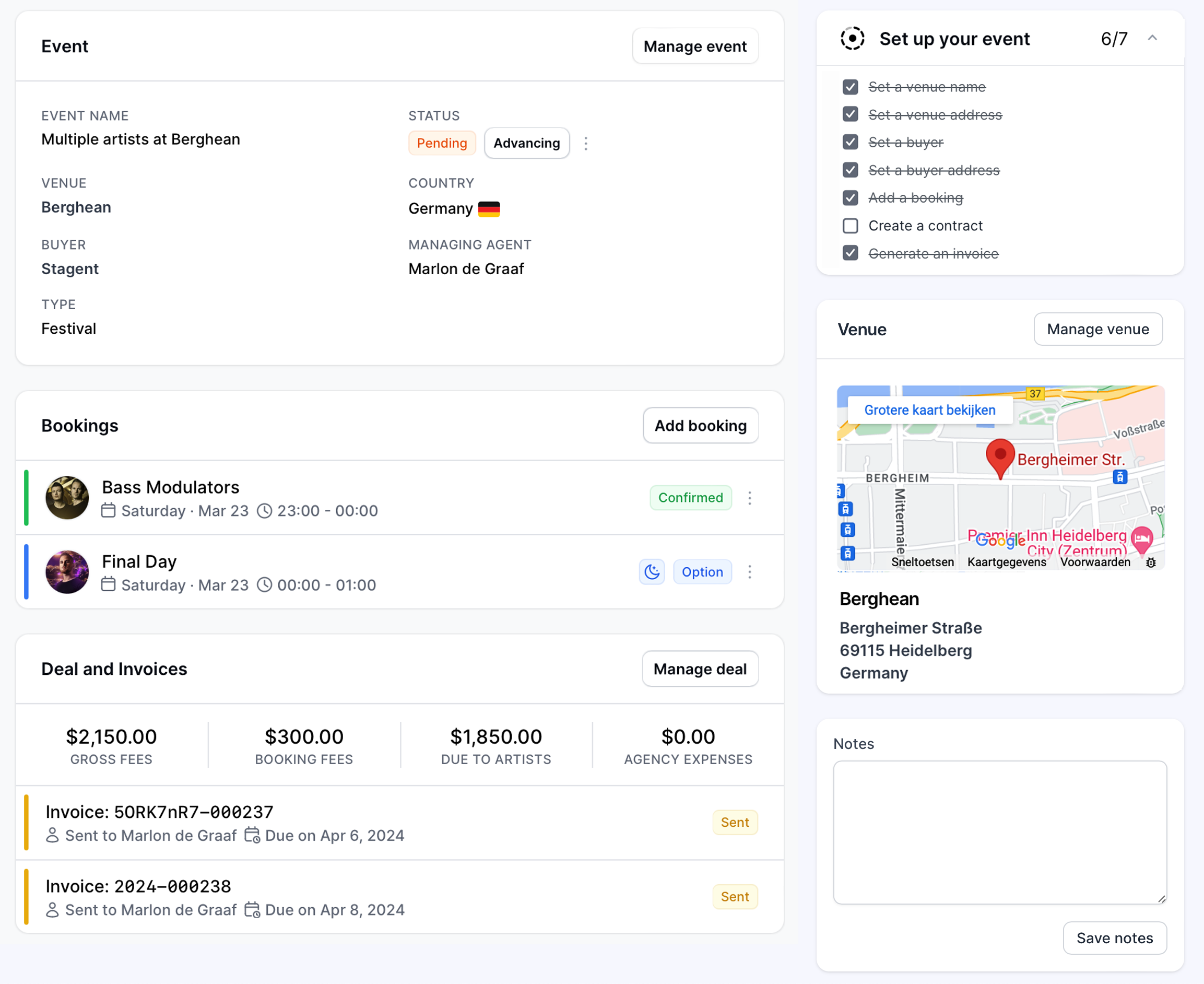 Ready to dive in?
Start your

free trial

today.
We offer a 14-day free trial to explore Stagent for yourself. Do you prefer a demo? We've got you covered, book a demo here.
Start free trial
Frequently asked questions
Questions. Frequently asked ones. Plus our answers. If you can't find what you're looking for, you can always send us an email with your enquiry.
What is Stagent?

In the dynamic world of the music industry, artists & their teams face new logistical challenges each day. This is where Stagent comes in. Stagent is an all-in-one solution for artists, booking agencies, and managements.

Who is Stagent for?

Stagent helps both artists and booking agencies with managing bookings and is specifically designed on their needs. Make sure you sign up with the right team type.

What does Stagent cost?

Stagent has a unique pricing model for smaller agencies based on the amount of booking managed per month. You can find our pricing here.

Is Stagent free?

We offer a free plan for every artist that is invited by their booking agency.

What integrations are included?

Stagent integrates with Zapier which brings over 5.000 integration options. The possibilities are endless. Reach out if you need any help integrating with your tools.

Will I be able to import data?

Certainly, however, this feature is not our top priority for now. This functionality also depends on how other software can deliver your data to us.
Trusted by